Your Questions Answered
What do I require to be married in Ontario?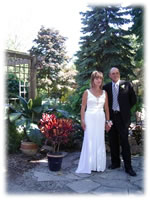 To be married in Ontario you must be 18 years of age. You require a marriage license and must have two witnesses over the age of 14 to witness your marriage.
A marriage license can be purchased at any local municipal office or City Hall in Ontario. It can also be downloaded from the Ontario Ministry of Business and Consumer Services web site. The license is good for 90 days. To get a license one needs to obtain an application. The application can be picked up ahead of time. It explains the required identification, the legal documentation, etc. that you need to obtain the license. (There is no blood test.) In most cases you can pick up the application and license the same day.
*Note: there are issues if one of you has been divorced outside Canada.
The Province of Ontario does not have a residency requirement. I have officiated wedding ceremonies for couples from other Canadian Provinces, the U.S., and the United Kingdom. Once you have purchased the marriage license you can even get married the same day if you wish to do so!
If you are travelling from a distance I will be happy to recommend services in the area for your comfort - hotels, motels, B&B's, restaurants, etc.
Please contact me with any questions you may have and I will answer them as quickly as possible.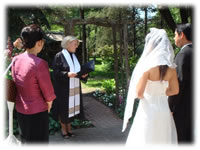 You can book with me as soon as you have confirmed your wedding date. Please remember that summer months are busier than others, so one year in advance is not too early to book. Off season weddings in November through April do not require booking so far in advance.
If you would like to have your wedding here in our private gardens or in our Victorian Farmhouse you may be able to do so even the same day that you have your marriage license. Weddings have occurred here with as short as 2 hours notice.
To book your wedding date with me just telephone or send an email.
Your deposit will reserve that date and time for you. Receipts will be issued and all details will be confirmed in writing.
For your convenience, you are able to pay with Visa, MasterCard, cheque or cash.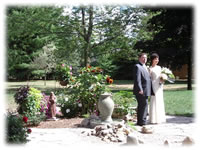 I will do my best to meet your needs and preferences for your wedding location. The basic fee is for weddings in South Simcoe and most of York Region.
If your location is farther we can discuss travel expenses. My goal is to ensure your happiness.
Do we have a wedding rehearsal?
A wedding rehearsal is an option available for you. It is not a requirement.
There is an additional fee for the rehearsal dependent upon location of the wedding ceremony. We will discuss the entire ceremony throughout the weeks prior to your wedding day. The choice of having a rehearsal is completely up to you and your comfort level.
I am always happy to accommodate your preferences regarding what to wear as the officiant of your ceremony. Options range from a navy blue suit, black dress suit, grey cleric's robes or formal black robes.
I arrive within one half hour prior to the start time of your ceremony.
What name do I use to sign my marriage documents?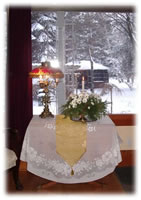 You must sign the marriage documents with the same name which appears on your marriage license because that is the document which is submitted to the Province of Ontario to register your marriage.
How much does it cost for an On-Site Ceremony at your home in Bradford?
Fees begin at $99 when the ceremony is at this location. There are no extra costs or hidden fees. This venue and my services as your Wedding Officiant are included.

Like me on Facebook!