INTIMATE WEDDINGS
ON-SITE
At Rev Pamela's Victorian Home
Don't Worry ~ Be Happy!
Have your wedding ceremony in our lovely gardens.
"Rev Pamela has a warm, relaxed and joyful spirit
to help create your worry-free wedding."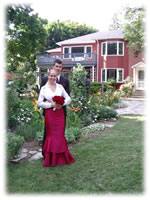 Intimate weddings at Rev Pamela's Victorian Home are Beautiful.
You will have a Unique and Private Ceremony Venue for you and your guests. No other weddings or functions are scheduled at your time.
Fee:
At this Location in Bradford: Begin at $99
includes Ceremony Services

Would you like to Elope?
Same Day / Short Notice, OK!

Accommodating gatherings from 2 to 30
Indoors and out in the gardens
Available 7 days / week ~ Fall - Winter - Spring - Summer!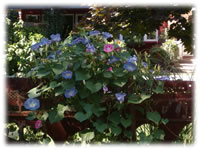 We offer over 2 acres of private park-like country property featuring dozens of mature trees and hundreds of perennial flowers.
If the weather does not cooperate, your ceremony can be held easily within our Authentic 110 year old Century Victorian Farmhouse.


You Can Choose to have Your Ceremony:
By the Fireplace in the Century Home
On the Flagstone Patio by the Fountain
Under the Canopy of the Birch Tree Grove
Nestled near the Rose Garden
You are only Limited by your Imagination!
Allow us to help you create a day that is all you have been dreaming it would be!
If there is anything special you would like to include which is not listed here or if you have any questions ~ simply contact Rev Pamela to discuss your preferences.
Contact Rev Pamela today to book your ceremony
Email: pamela@weddingsont.com
Phone: 905-775-4375

Like me on Facebook!