Are you planning a Destination Wedding?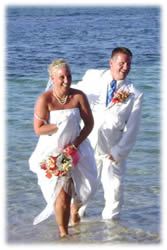 Would you like to save Hundreds of Dollars?
There is a special arrangement just for you!
If there is anything special you would like to include or if you have any questions ~ simply contact us to discuss your ideas.
Hi Everyone
I am sure that many of you are aware of the problems for dozens of couples who were married in the Dominican Republic this past fall.
It has just been discovered that the office clerk responsible for registering the marriages absconded with the money and those marriages were not registered. There is a suspicion that many people were involved...not just that one clerk.
At this time, the office of the Dominican Republic is actively trying to find those papers and will register them accordingly...once they are found. However, that means the couples will not receive their marriage certificates for several more months.
And, what is even more significant....until that happens...in the eyes of the Dominican Republic and even more importantly...in the eyes of Canada...None of those couples are Legally Married!
For those of you who are considering a Destination Wedding...I strongly recommend that you have a quiet...(even secret) ceremony in Canada.. No one has to know about it. All you need to do is get the marriage license and either bring 2 witnesses with you ...or ask that witnesses be arranged for you.
The current fee is just $99.00 if you have witnesses with you. $149.00 if witnesses need to be arranged for you.
You do not have to have a full ceremony. All of the special elements of getting married can be saved for your Destination Ceremony.
This step is a guarantee that your marriage is registered in Canada. In my opinion, this is important because it can avoid unnecessary hassle, stress and expense for you!
Best Regards
Rev. Pamela

Like me on Facebook!