Congratulations ~ You're in love and want to get married!
You have a Unique Alternative to City Hall ~ an Intimate Country Wedding!
Legal Civil Ceremonies
From $99.00
Winter ~ Spring ~ Summer ~ Fall!
7 days per week
You can be legally married Today, Tomorrow or ????
in a Civil Celeftremony
at an Authentic 100 year old Victorian Estate
within a Private Park-like setting.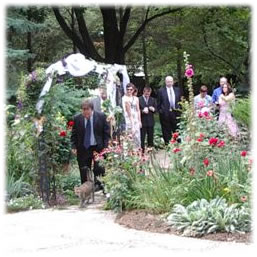 Centrally located in Bradford with Toronto to the south and Barrie to the north.
For a similar fee as City Hall (and sometimes less) you can have a Personalized Civil Ceremony officiated by Rev Pamela Covert-Slater: A fully licensed Ordained Minister, on a large 110 year old Victorian Estate in Bradford.
Fees:

On-Site Fee:
At this Location in Bradford: Begin at $99
Please Click On the Intimate Weddings tab for more information about having your ceremony in our beautiful home and gardens in Bradford.
Do you have a Different Location in Mind?

Off-Site Fees:
At your Location: Dependent upon Distance
Whether your preference is Civil, Spiritual, Interfaith, or Traditional you can be assured that your Preferences are the Priority.

You Choose From a Range of Ceremonies:
Casual or Formal
Short Ceremony or Longer Ceremony
Civil, Non-Religious, Spiritual, Interfaith, Traditional
Contact Rev Pamela today to book your ceremony
Email: pamela@weddingsont.com
Phone: 905-775-4375

Like me on Facebook!